Alison & Terry's Chimney Rock Mountain Wedding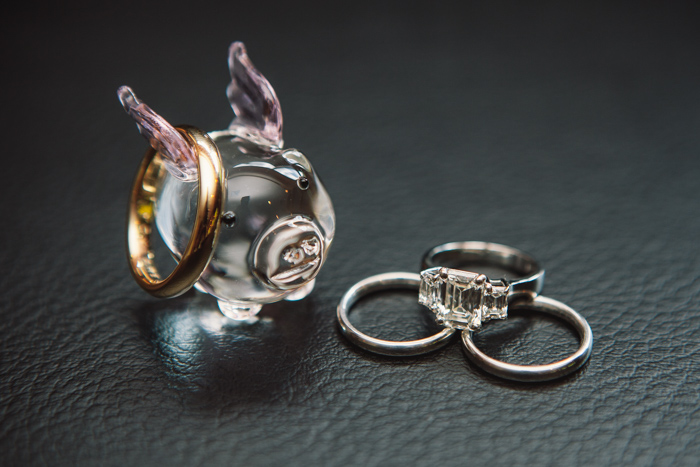 Where do I even begin with Alison and Terry? These two beautiful people are absolutely inspiring to me, and I cannot express how happy I am to have crossed paths with them. Alison and Terry's amazing wedding weekend celebration took place at The Esmeralda Inn in breathtaking Chimney Rock, North Carolina. "It's going to be one, big party," I remember Terry telling me during our Break-the-Ice session. He wasn't kidding. They rented out the entire Inn for the weekend and made it a priority for all their guests to have fun, drink wine and enjoy the Inn's 16-person-capacity hot tub (sans bubbles). These two seriously did it right. What I loved so much about covering these two was their sense of humor. Terry is this spontaneous, energetic goofball, and Alison is amazingly witty and charming.
Alison always joked with friends that she'd get married when pigs fly. After Terry's incredibly romantic sailboat proposal, the joke finally became a reality. Her friends solidified the theme by gathering countless trinkets and decorations to adorn the venue. They even stole the flying pig garden ornament from Alison's yard to be showcased outside the Inn. This incredible attention to detail was apparent throughout the entire wedding. Every detail, every accessory, had a meaning behind it – from the symbolic cowboy hats at Alison's bridal luncheon to Terry's sailboat-patterned tie reminiscent of the day he proposed to her out at sea.
I just loved everything about these two and this mountain wedding. Here are the highlights from their incredibly memorable celebration. Congratulations Alison and Terry. I wish you all the joy and happiness that your marriage is sure to bring.
Catering: The Esmeralda Inn
Cupcake Tier: Kim Faro
Band: Vanilla Cornbread
Event Coordinators: Michelle Vigor and Rebecca Rosensweig
Event Design: Debbie Ellis, Mickey Addison and Karen Peterson
Florals: Little's Flower Farm and Blooms by the Box
Gown: Provided by J. Majors Bridal Boutique
Gown Design: Harmony by Enzoani
Honey Favors: The Homeplace Apiary
Hair & Makeup: Cathy McNeish of Natural Brides
Pie Baker: Mara Nicholas of The Baker's Box
Tuxedo Design: Geoffrey Beene
Tie: Merona
Venue: The Esmeralda Inn