Andrea & Matt's Mexico Destination Wedding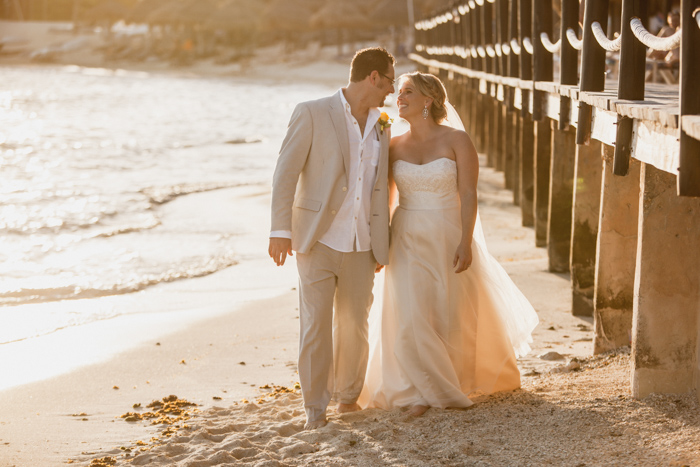 My first memory of Andrea is on the Apres Vous chair lift in Jackson Hole, Wyo. Sitting next to our mutual good friend, Kelsey Dayton, I discovered that Andrea was best friends with Jennifer Aniston, Brad Pitt and Justin Timberlake (whom she referred to as JT). I don't even know how the conversation started, but all I remember is learning how Brad and Angelina's relationship was an emotional roller coaster and that the recent developments of Jus…JT's love life were juicy. I remember the excitement in her eyes as she updated me on the current celebrity gossip. I found Andrea hilarious and refreshing, and although I knew that this might be the last time I ever got to hang out with her, I was happy to have met "Jennifer's BFF."
Never would I have predicted getting an email from her four years later asking if I'd consider photographing her wedding in Cancun, Mexico. Not only was it appealing to do a warm destination wedding in the winter, but the fact that our mutual friend, Kelsey Dayton, was one of her bridesmaids made it even more amazing. I felt like December couldn't come fast enough, when in actuality, it came too fast. Work and assignments had piled up like crazy in the fall, and before I knew it, it was 9 p.m. the day before I was to leave for Mexico. I hadn't even had time to breathe, let alone pack. This Mexico adventure was going to be a much-needed vacation/work-trip.
Fifteen hours later, I was in Mehico. Tourists flowed through the airport like rivers, and I soon realized that I was definitely overdressed. After living in Florida for 11 years, you'd think that I would have been better prepared for the humidity. Regardless, I couldn't wait to get to the resort and slip into the official footwear of the tropics: sandals. Andrea had done all the leg-work for arriving guests and had already arranged transportation to the hotel. She was determined to make the idea of thinking completely non-mandatory for her guests, which was a godsend. On the shuttle ride to the resort, I had the opportunity to meet some of the other wedding attendees. After discussing the latest episode of "The Walking Dead" and exchanging personal zombie apocalypse survival strategies, I knew I was in good company.
We were staying at the gorgeous, all-inclusive Catalonia Riviera Maya Resort & Spa. After getting a personal welcome from Andrea and Matt in the lobby (unprecedented!), I explored the resort and got acquainted with the grounds. This place was beautiful. I knew I was going to have a blast covering the weekend's events.
This wedding was particularly interesting for me. I didn't know anyone else except Kelsey and the bride, but felt oddly comfortable with all of Andrea and Matt's guests, whom had flown in from all corners of the world to be here. Maybe it was their amazing personalities. Or maybe it was the never-ending group shots of Tequila Boom Boom (#MarryMeMexico). Whatever the reason, I liked this group, and I got to know everyone real fast. After a few rounds of Cards Against Humanity, I felt like I had known these folks for years. Suddenly talking business and doing meet-and-greets in a swimsuit became less weird and more normal. When in Mexico, right?
Andrea and Matt did the destination wedding idea right – they planned really great group activities on the shoulder days of the wedding for all the guests to enjoy, most notably a welcome sunset sail and snorkeling adventure via private catamaran. Not only did it allow for all the guests to experience a little bit of Cancun outside the resort walls, but it created the perfect opportunity to meet new people and share great stories. The weather couldn't have been better for their three-day wedding weekend either. I had such a great time covering this crazy-fun couple and their hilarious, welcoming friends and family. Definitely an experience I'll always remember. And that's the whole point, isn't it?