Megan & Brian's Trolley Museum Wedding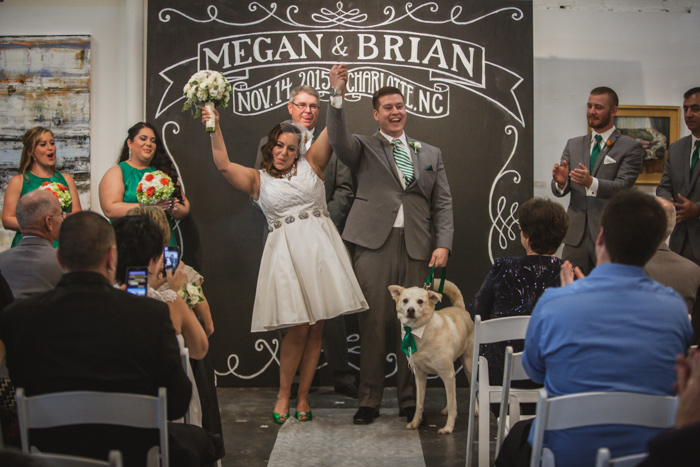 Some people are just meant to be together. Megan and Brian are two of those people. They met at the North Carolina Air National Guard where Megan was working on a plane that was being featured on a group tour that Brian was leading. And although this first encounter seemed rather random and insignificant, it became clear that these two were destined to connect as their paths continued to cross. When they were both coincidentally deployed to Afghanistan together, the fate of their relationship was sealed.
Three years later, on a gorgeous November day in Charlotte, North Carolina, Megan and Brian tied the knot in front of their closest friends and family at the Charlotte Art League in South End. Even their dog, Herc, was there. Shoot, he was the ring bearer!
I have to admit, I was a little nervous before the ceremony when they mentioned that Herc would be walking down the aisle with the wedding bands attached to his (absolutely adorable) tie. "Just make sure to tie 'em on tight," I half-joked. All was going well at the beginning of the ceremony, until my fears came true. As I prepared for Megan's approach down the aisle, Alex, the best man, suddenly leaned over and whispered to me, "check the ground. We lost the rings." WHAT!? Not exactly what anyone would want to hear right before the bride is about to walk, but admittedly, a memorable way to start a ceremony! Thankfully, the rings were found just in the nick of time and all was good in the world again.
The rest of the evening's events carried on seamlessly at the Charlotte Trolley Museum with much love, laughter and dancing. Man, was there dancing. 🙂
Wishing these two lovable goofballs endless amusement, great memories and unwavering love for years to come.

Vendors that made this wedding rock:
DJ – Will Puckett