Joseph & Leena's Romare Bearden Park Surprise Proposal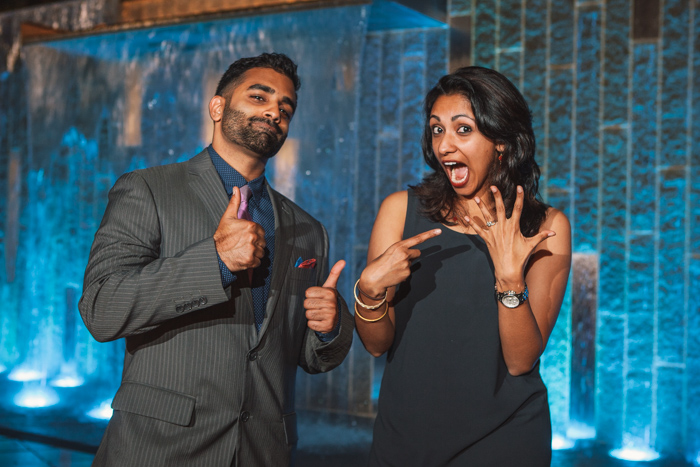 Joseph Ittoop is the definition of romantic. Gentlemen, take notes from this guy! When Joseph's sister reached out to me to see if I would be available to photograph her brother's surprise proposal, I was giddy with excitement. When I forwarded all the detailed plans and video walk-throughs as to how it was going to go down, I was even more excited. Joseph thought of everything – he had friends from both sides come together to create a proposal no one would be able to forget. Here's how it went down:
Following dinner, Leena and her friends (who were in on the surprise) headed to Romare Bearden Park to take some cool skyline photos together. Suddenly, other friends, who were hiding around corners and waiting for her arrival, jumped up holding signs, like, "today is the big day" and "say yes!" Joseph walked up as Leena finished composing a photo and surprised her. "Hey!" She exclaimed, not understanding why her boyfriend was there. Joseph then began to lead her down to the water fountain while telling her sweet nothings about how much he cared for her. This is when Leena began to realize something was up – cue the tears! As Leena tried to hold herself together, Joseph led her further down the walkway, which he and his family decorated with rose petals. Meanwhile, a string quartet played "Halo" in the background as he approached the center of the fountain. With the city lights illuminated in the background, he got down on one knee and asked her to marry him. After 3 seconds of laughing and crying, Leena said yes and more friends and family revealed themselves to celebrate with the loving couple. DEFINITION OF ROMANTIC! Picture-perfect night. So happy for this couple. They were so fun to photograph and I feel so lucky that I was able to witness such a monumental moment in the beginning of their lives together! Congratulations, Leena and Joseph!